Please set your own country and language once.
SportWays Summer - 2022 calendar released!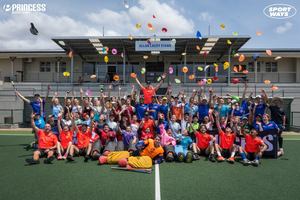 21 Nov
SportWays Summer is officially launched for January 2022 with the SportWays TOP HOCKEY Clinics!
The best SA players... the best SA coaches.... the best coaching program available inSA! It's SA's #1 coaching clinic for the last 10 years. We lead... others follow! It's a genuine TOP HOCKEY experience like only SportWays can deliver!
Want to see a FULL overview of ALL the SportWays TOP HOCKEY Clinics nationally? CLICK HERE for the pdf (1XXKB). Uploaded soon.
What can you expect in 2022?
A TOP class coaching program designed by the TOP Dutch and international coaches.
SA's best coaching clinic now in it's 12th year... and getting better and better every year as we raise the bar for clinics in SA!
Focus on FUN and LEARNING
SportWays pro Technical Director coaches delivering a TOP European hockey clinic experience (in SA!)
TOP SA players and coaches will be making guest appearances with every clinic as star players or "toppers" as the Dutch call them.
15 to 25 x top local coaches
Specialist professional goal keeper coach at the 4day clinics
16 hours hours training (2day) and 32 hours training (4day)
Tournament round matches
TOP hockey presentations
NEW skills because SportWays are the world leaders in hockey clinics and camps across the WORLD
FUN FUN FUN!
If you are coming back for the second or third or fourth time – whats new?
If you are a returning player, that is awesome! We couldn't teach you everything last time. So be prepared to be blown away again with more skills, tips and tricks to take your game to the next level! We have had some players join the clinics 6 years in a row - WOW! Never stop learning and never stop improving!
Pricing / Discounts
There will be NO price increase on the 2021 clinics and the early registration discount has DOUBLED to 20% if you register and pay before 30 November 2021. Great!
And if you have a brother or a sister joining you or you want to enter a GROUP of players to get 30% discount - find out more here!
What about COVID?
We are SO EXCITED to be back on the field!
Hockey matches and trainings for clubs and academies like SportWays were allowed to go back under Adjusted Level 3 already and the Minister of Sport approved the SA Hockey Return To Play rules as of 29 September 2020 - https://www.sahockey.co.za/sa-teams/691-hockey-returns
If South Africa is at a level where clinics are not allowed, your entry is still safe and we will postpone or offer a refund. So you can register knowing your spot and money is safe and sound. SportWays have been the world leaders in hockey camps and clinics for the last 30 years in Europe and for the last 12 years in South Africa.
Why SportWays?
SportWays' emphasis is on quality. This encompasses both our hockey program and the social program. Fun & Learning are the main characteristics of all SportWays clinics and years of experience in both our organisation and our staff is a solid base for success. Each year the training programs are developed by Dutch premier league coaches, players and the technical staff of various national teams to focus on the latest developments in hockey. This way the participants are guaranteed to learn the very latest techniques in the sport. We distinguish ourselves by paying maximum attention to the individual player and it is our mission that a SportWays clinic should be a special experience for each participant, regardless of his or her level of ability.
SportWays South Africa is different to all the other local coaching programs. We focus a huge investment on coach education ensuring our coaches have international qualifications and international experience with our coaches having presented clinics across the world including The Netherlands, Belgium, Germany, Spain, USA, Hong Kong, Canada and the UK. We also fly our top coaches across SA to ensure each clinic is getting the highest quality pro Technical Directors available in SA.
Looking ahead to your 2022 season...
How is your 2022 hockey season going to go? Are you doing everything you can to make the A team? Make that provincial team? Will you start it the right way in 2022?
Don't be left at home in January 2022!
Secure your spot in SA's best coaching clinic now! Enter here now before it's FULL!
Train with the BEST!
Train with SPORTWAYS!
Email our SportWays team at info@sportways.co.za
Home