Please set your own country and language once.
Princess Dutch Clinics 2020 launched!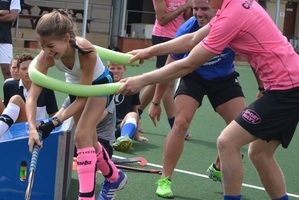 25 Sep
SportWays is celebrating it's 10th birthday in South Africa! So to celebrate we are bringing in a record number of top pro Dutch hockey coaches to present the best coaching clinics SA has ever seen! We are doing the day-clinics and visiting even more locations across SA in 2020 PLUS we are doing the first ever SportWays ELITE HOCKEY CAMP (overnight camp) in Joburg (more about this later)!
Hockey players in primary and high school are invited to SA's BEST hockey coaching clinic, the PRINCESS Dutch Clinic in January 2020! Powered by SportWays the world leaders in hockey coaching who celebrated their 30th birthday recently! The Princess Dutch Clinics run from 9am to 5pm daily and come in 2 day, 3 day or 4 day formats.
TOP professional Dutch coaches will share with our hockey players (and coaches), their elite knowledge and the latest skills in world hockey! So if you have been to a Princess Dutch Clinic before, you will learn the next level of skills and take your game up a notch again! Those that have not joined us yet, well you will be BLOWN away by the skills taught and the infectious passion our coaches have for hockey and working with the players!
We have put together the best combo of clinic dates in January 2020 at the following locations...
Cape Town, Joburg, Pretoria, Durban, Stellenbosch, Pietermaritzburg, Port Elizabeth, East London, Benoni, Durbanville, Potch, Bloem, Zululand, George, Knysna, Polokwane, Limpopo, White River, Worcester, Upington, Newcastle, Witbank, Windhoek and Swakopmund.
ALL schools return Wednesday, 15 January 2020 (long school holiday)!
To find your clinic and register now - click here!
To see a pdf list of ALL clinics nationally - click here!
The PRINCESS Dutch Clinics 2020 are now OPEN and will be SOLD OUT again in 2020 so don't delay! #SportWaysSummer2020 #PDC20
DISCOUNTS (read careuflly)
We thought of cancelling our discount structure completely as it has become quite an admin nightmare to manage with many people not bothering to read our clear discount policy. BUT we are sensitive to those families having more than one child and also want to reward the returning players and large groups for their die-hard support year after year! NO wonder these players are continously improving and reaping the benefits of being coached by the BEST! We have so many testimonials and amazing stories here!
Please note - no discount is automatically applied. You need to manually input the discount code during the registration process. NO refunds for missed discounts what-so-ever. Only ONE discount applies (the max discount).
Register and pay before 30 September 2019 and get the 10% early registration discount! There are also family and GROUP discounts available.
Please read our discount policy here!
COACH EDUCATION
All local coaches are invited to apply to learn from the pro Dutch coaches! Wow what an opportunity!
Want to learn from the BEST? Coaches Apply Here!
Clinics were 100% SOLD OUT in 2019 adn we had to turn people away! Don't be left at home this January!
#trainwiththeBEST
#trainwiththeDUTCH
#trainwithSPORTWAYS
More more info, please email info@sportways.co.za after having checked the website!
Home