Please set your own country and language once.
Thomas Tichelman High Performance Lecture - Cape Town 12 January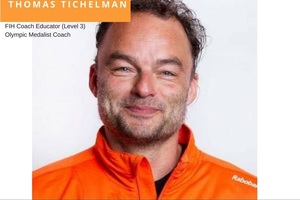 09 Jan
SportWays are the world leaders in hockey coach education!
SportWays is the official coaching partner to the European Hockey Federation (EHF) and SportWays Founder, Thomas Tichelman develops coaching content and courses for the FIH. He is a FIH Level 3 presenter and coach educator.
SportWays South Africa focuses on producing moments of the highest quality coach education.
Thomas has been an international trainer of the world beating Dutch teams for many many years. He is on the cutting edge of developing the game and always learning.
Thomas was the Dutch hockey Federation (KNHB) HP Director/Manager and assistant coach with the Dutch men's team over the years having gone to the London 2012 Olympics with the Dutch men taking a silver medal. He has coached, challenged and developed the worlds best players and coaches!
Thomas founded SportWays the worlds largest coaching camps, clinics and tours provider for the last 27 years. SportWays operates around the world across Netherlands, Ireland, Spain, Belgium, UK, Canada, USA, Hong Kong etc etc!
Thomas is one of the greatest hockey minds in the game. Come to his talk and prepare to the BLOWN AWAY!
Thomas Tichelman High Performance Lecture
Date: Friday, 12 January 2018
Time: 5pm to 8pm
Venue: Alf Morris Centre, Wynberg Boys High School
Target: all hockey coaches, parents and players
Cost: R200 (eft or credit card payment)
Sign up now! Limited seats available!
Link to register - www.sportways.co.za/eng/site/hockeycamp/262
Don't miss out! It's so rare to have one of the worlds best coaches sharing his knowledge!
Home