Please set your own country and language once.
Austin Smith coaching clinics in SA - June/July 2016!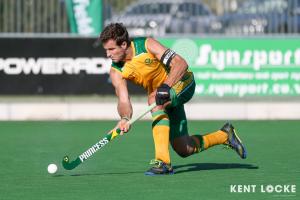 06 Jun
Austin Smith #5 - SA's BEST player will be featuring in five PRINCESS MasterClass Coaching Clinics during the June / July 2016 school holiays proudly powered by SportWays, SA's BEST coaching clinics!
Playing Career
Austin is the current SA men's captain since 2009 after a major break through performance at the Beijing 2008 Olympics Games scoring 4 goals under major pressure as a 22 year old. Austin has been recognised as SA Player of the Year a record three times and is considered to be among the few world class hockey players that SA has produced. He was the last SA men's player to be included in the FIH World All Star team making him once of the best players in the world!
Austin lives and plays hockey professionally for Den Bosch hockey club in The Netherlands (Holland). He also plays for the Delhi Waveriders in the Hockey India League and has won the league twice already. He is a member of Pinelands Hockey Club in Cape Town since 15 years of age and represents Western Province when he plays the senior men's interprovincial tournament in SA each year. He has over 150 test matches for South Africa and has played in the last two Olympic Games, last two World Cups and last two Commonwealth Games.
Coaching in SA
With Austin's full time international playing schedule, he seldom has time to do coaching clinics but as a qualified teacher and youth coach in Holland, it's a huge passion of his (and he's VERY good!). He loves giving back and comes home as often as possible to visit local tournaments and schools to encourage and inspire the next generation! Austin coaches exclusively for SportWays in SA and is a proud ambassador for the highest quality coaching clinics in SA. Last time Austin presented his PRINCESS MasterClass Clinic in Gauteng and the Western Cape, it was 100% SOLD OUT! So don't miss out this time around as Austin makes a trip to Pietermaritzburg, Durban, Cape Town and the Boland! He has not forgotten about the rest of SA and hopes to do another trip soon.
Austin as the "Master" at this clinic will take you through a MasterClass of the skills he's used to get to the top of world hockey. Everyone is welcome from those just starting out to advanced players.
24 June 2016 (Friday) in Pietermaritzburg hosted by Maritzburg College
25 June 2016 (Saturday) in Durban hosted by Riverside Hockey Club
28 June 2016 (Tuesday) in Worcester hosted by Worcester Gymnasium
29 June 2016 (Wednesday) in Stellenbosch at Bloemhof Hoer Meisieskool &Rhenish HS
6 July 2016 (Wednesday) in Cape Town hosted by Wynberg Boys High School
Click on the OVERVIEW of this MasterClass page to get more info and register.
International Princess Ambassador
Austin was the first SA player to get recognised by an international hockey brand, with PRINCESS making him his very own signature hockey stick, the PRINCESS A5 (Austin Smith #5). This hockey stick is HUGELY popular and Austin is an international brand ambassador for PRINCESS hockey. Check it out here! Austin is now also sponsored by Asics, Biogen and other great brands. Awesome to see these guys supporting Austin so he can commit to hockey full time and fulfil his potential as a player!
Austin will be working with PRINCESS hockey at the PSI Junior Nationals in Cape Town from the 30th June to the 3rd July with over 600 x u11 and u12 of SA's best indoor hockey players.
You can catch up with Austin here!
See you at the PRINCESS MasterClass featuring Austin Smith this June / July 2016 school holidays!
Home