Please set your own country and language once.
Jason Mulder joins SportWays SA!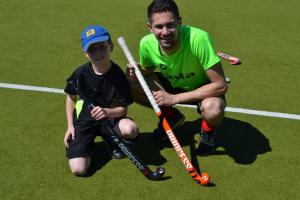 26 May
Jason Mulder joined SportWays on a full time basis at the start of 2016 as Chief Operations Officer overseeing the growing number of top coaching clinics operated by SportWays across South Africa.


Jason is one of SA's best up and coming hockey coaches. For the last four years Jason has been involved at school level with Bishops Hockey as the first team coach and more recently as their Technical Director. Bishops 1st team won both the WP Boys Knockout and League in 2015. At provincial level Jason won gold with the WP u18B side to win promotion into the A section of the interprovincial tournament (IPT) in 2012. Then as head coach of the WP u18A boy's team, he won two IPT A section gold medals in the next three years. He has been the WP u21 Pens coach in 2014 and 2015 (A section). He has also coached the Princess High Performance program for the WP Boys u16 and u18 groups since 2011 which has helped players break into the national team. Jason was involved earlier in 2016 as a trainer of the SA men's senior national hockey team.


This man's talents do not just stop at being a coach. Jason is a gifted player and has represented WP at every level since u18. Jason has already won two A section GOLD medals at the Senior Men's interprovincial hockey tournament. In 2014 with the legendary WP Pens "B" team and again in 2015 with the Tuffy WP A team. He is currently still representing the Tuffy WP Men's A side.


Jason has tons of experience in hockey administration and operations gained from previous roles. He worked at the Western Cape Sports School as the head of hockey in charge of designing and implementing a hockey program aimed at developing national players for three years. He then moved onto the Department of Cultural Affairs and Sport (DCAS) for two years as the man in charge of developing centres of hockey across the Western Cape.


In terms of local qualifications, Jason has his SAHA Level 0, 1, 2 and 3 coaching accreditation and is also a Level 1 course facilitator.
Jason has been with SportWays South Africa from the start when we held our first Princess Dutch Clinic in 2011. He has been across the world with SportWays as a coach and Technical Director coaching in Namibia, Zimbabwe, Netherlands, Barcelona and the USA. He has been to the best SportWays international hockey camps in the world exposing him to the latest techniques and tactics in the game of hockey as well as getting to share ideas and thoughts with some of the best coaches in the world.
Jason has an unrivalled passion for hockey and is keen to never stop learning. After coaching across the world and South Africa, he's convinced SportWays is the only way to develop as a player and a coach. We are proud to have him on board for many years to come!
Jason can be contacted at jason@sportways.co.za
Home