Please set your own country and language once.
More changes - Cyril will keep you guessing ;-)!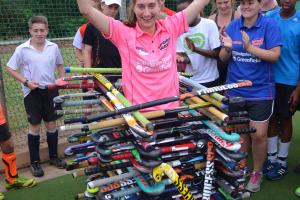 13 Jan
Update (20 January 2021) - The SportWays clinics are all being confirmed one by one as we get the hosts and Provinces approval. Please sign up if the clinic still has space so you can get notifications about that specific clinic or email the office - info@sportways.co.za
Update (15 January 2021) - Great news! SA Hockey will sent out communciation econfirming clinics can go ahead under adjusted level 3 regulations as long as we meet all covid protocols and get approval from the Provincial hockey body. SportWays Summer 2021 is going to happen!
13 January 2021
Dear parents,
Yes - these family meetings at 8pm at night can turn your life and business on its head with no warning! Now with level 3 adjusted indefinitely.... we are kept guessing as to whats going to happen next!
Please find below an update from us regarding your SportWays TOP HOCKEY Clinic given the current adjusted level 3 restrictions.


We need the following to return to club or private / academy hockey:
Level 2 restrictions as they currently stand


Level 3 adjusted restrictions only if SA Hockey and the Department of Sport include practices and coaching clinics for youth players. These bodies are still in discussion and it's not clear when hockeys new guidelines will be published and what they willor won't include. Last time they only included the provincial players training sessions but we have made a submission to motivate to include youth hockey players of all ages.
We will NOT be cancelling ANY clinics! We will NOT let Covid or govt regulations rob our players of any opportunities for sport, fun and learning! Plus we have already invested in all the preparation for these TOP class hockey clinics and are raring and ready to go!
We can confirm the following for you:
1) Your clinic is going to be rescheduled / postponed to a later date.
2) We will only be able to announce new clinic dates once we know when we can legally and safely set dates at the correct restriction level. We are hesitant to set dates now as they will just be a guess and will await clarity from SA Hockey / government. But the date will most likely be in Feb / March 2021. We will also need to then confirm these dates with our amazing host venues!
3) If we are forced to cancel, then we will offer a refund or a voucher option for a future SportWays Clinic. But we are determined and excited to play!
School sport does not look like it will start immediately so we will still have time in Feb / March 2021 on the weekends to kick off #SportWaysSummer2021 before hockey season starts! Please be patient. It will be worth it!
We will get back on the hockey field as soon as it's safe and allowed! Hoping for good news in the coming month!
Yours in TOP hockey,
Jack, Chiara and the SportWays Coaching Team
e: info@sportways.co.za
#trainwiththeBEST
#trainwithSPORTWAYS
#THC21
#SportWaysSummer
Website: www.sportways.co.za
Instagram: @sportways_sa
Facebook: www.facebook.com/SportWaysSA
SportWays is SA's only national hockey coaching company focussed on the highest quality junior hockey player coaching and coach education. TRAIN WITH THE BEST!
SportWays is the official coaching partner the European Hockey Federation (EHF)
SportWays South Africa made WORLD HOCKEY history by hosting the first ever FIH Indoor Level 1 course in January 2020 at Durbanville High School
SportWays partnered with the African Hockey Federation to host the first ever SportWays African Hockey (Virtual) Summit in September 2020 with over 1,300 attendees
Home