Please set your own country and language once.
SportWays will celebrate Youth Day 2017!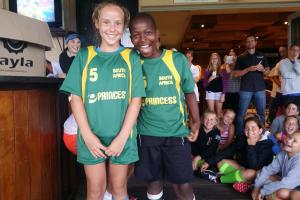 15 May
SportWays along with our partners invite you to build our country together through the sport we love, HOCKEY! Don't just sit at home on Youth Day 2017! Come play hockey for a charitable cause!
What is Youth Day the public holiday?
On a cold and overcast morning of 16 June 1976, over 15,000 students across Soweto between the ages of 10 and 20 were marching to protest against a law that made Afrikaans the language of instruction in African schools across the country.
The apartheid regime via the police met the student protestors with a brutality that shocked the world. Police formed a wall facing the pupils, warning them to disperse. Teargas was fired into the crowd and police dogs released. In the chaos, children ran back and forth, throwing stones at the police – who fired more teargas. Then came the first shot – straight into the crowd, without warning. Other policemen took up the signal and more shots were fired. Twelve-year-old Hector Pieterson fell to the ground, fatally wounded. Reports put the number of students killed at anywhere between 176 to over 700. The number of injured is believed to be over 1,000.
International solidarity movements were roused as an immediate consequence of the revolt. They soon gave their support to the pupils, putting pressure on the apartheid government to temper its repressive rule. School principals were almost immediately allowed to choose their own medium of instruction, a major victory for the pupils. More schools and a teacher training college were built in Soweto. Teachers were given in-service training and encouraged to upgrade their qualifications by being given study grants. The most significant change, however, was that urban blacks were given permanent status as city dwellers. The law banning blacks from owning businesses in the townships was abolished. Doctors, lawyers and other professionals were now also allowed to practise in the townships.
Youth Day is now the day that honours the deaths of hundreds of Soweto schoolchildren, a day that changed the course of our country's history.
In a speech by President Nelson Mandela on Youth Day in Ladysmith, 16 June 1995 he said, "Through these Youth Day activities, we are driving home a central message that education is the most important asset that our youth should acquire; and that for the government to succeed in improving education, it must have the support of students, teachers and parents alike. We can only succeed as a nation if we build one another and build our country together."
All school teams from u13, u14, u16 and u19 (boys and girls) age groups are welcome to join the SportWays YOUTH DAY SHOWDOWN! First come first serve!
Event Overview
The SportWays YOUTH DAY Showdown is a YOUTH DAY event on 16 June 2017 which involves five aspects:
1. Princess Showdowns Championship
The first ever 8 second penalty shoot-out (aka "showdown") tournament! It's going to be super exciting! Your team takes on other teams in this intense battle.


2. SportWays 5z Feud
A 5v5 slugfest between the same teams! League / round robin format.
3. Coach education of local coaches
SportWays top Technical Directors will share with the coaches the secrets of the SHOWDOWNS!
4. A top hockey coaching clinic for the players!
SportWays top Technical Directors will share with the players specialist goalie coaching and specialist penalty shoot-out and 1v1 coaching.
5. DEVELOPMENT DRIVE - Donations of used equipment
We will be encouraging ALL players to bring old hockey sticks, hockey shoes and hockey bags to the Youth Day event so they can be donated to official development programs, schools and clubs.
There should not be a single hockey player in SA that does not have access to proper hockey equipment! Together we will solve this problem!
Event hosted by the following great partners:
• Cape Town - hosted by Western Province Cricket Club
• Durban - hosted by Riverside Hockey Club and Riverside Sports
• Pietermaritzburg - hosted by KZN Inland Hockey and Maritzburg College
• Port Elizabeth - hosted by Pearson High School
• Benoni - hosted by St Dunstans College and Benoni Northers Sports Club supported by Eastern Gauteng Hockey Association
• Coming to a turf near you soon! Contact us!
There will be tons of VIBE! Prizes, Vibe, Photographs, FUN etc
If you have any questions or want to enter please feel free to contact SportWays at info@sportways.co.za
We look forward to welcoming everyone to the SportWays Youth Day SHOWDOWN! It will be a special event for all participants and we look forward to making it an annual charity event.
Home