Please set your own country and language once.
SportWays launch official partnership with SA hockey captain Austin Smith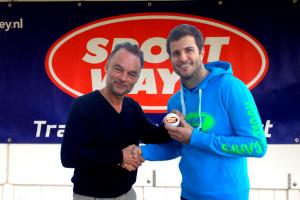 14 Sep
SportWays launch official partnership with SA hockey captain Austin Smith to challenge SA junior hockey player's skills!
With 25 years of experience, SportWays is the oldest and most successful organiser of hockey camps and clinics in the world. In the Netherlands they currently have over 3000 players in their summer overnight camps alone, never mind their clinics and tours. SportWays have arranged field-hockey camps in Belgium, Ireland, Spain, England, France, and the USA. They are a long standing partner of the European Hockey Federation (EHF) helping develop coaches and players across Europe.
SportWays partnered with PRINCESS Coaching SA in 2011 to bring the first SportWays coaches to South Africa. It started with just one holiday clinic at Wynberg Boys High School but the exceptional coaching has seen the "Greenfields PRINCESS Dutch Clinic" grow into 15 locations coaching over 1000 players across South Africa, Namibia and Zimbabwe in January earlier this year. "After the first clinic, the feedback we got from players, coaches and parents was truly inspiring. Not only was it the most fun you have ever had on a hockey field, but the SportWays technical and social programs were miles ahead of anything being coached locally. SportWays only work with the best national and international players, coaches and a vastly experienced team of staff and trainers. We got quite a bit of social media abuse for not reaching all corners of SA as parents and players demanded access to the high quality PRINCESS Dutch Clinic. Majority of the clinics were completely sold out! We expanded as fast as we could partnering with top class hockey schools and clubs across SA like Riverside Hockey Club in Durban, St Stithians College in Joburg and Maritzburg College in Pietermaritzburg" explained Jack Thonissen from SportWays SA.
The successful PRINCESS Dutch Clinic powered by SportWays focused on players 10 to 18 years old. However it was clear from the SportWays coaches' feedback that there was a need to focus on technical skills for the junior players aged 6 to 13 years old throughout the year.
Austin Smith is a qualified teacher, passionate youth hockey coach, SA men's hockey captain, international PRINCESS Ambassador, three-time SA Player of the Year and the 2013 Best Player in Africa. He has been playing hockey professionally in Holland for the last 5years but has difficulty finding time in his busy hockey schedule playing for his Dutch club, the SA team and in the Hockey India League to travel back to SA to do many coaching clinics. He managed two PRINCESS Masterclass Clinics in 2013 which were sold out and a major success. "We needed to find a better way to challenge and improve the technical ability of ALL the junior hockey players in SA more often" Austin stressed. Austin having just recovered from a broken foot sustained in training has been hard at work with SportWays developing and filming the technical skills that have earned him the title of a world class player. "It was great to work with SportWays on this project and I'm really proud to announce the launch of the NATIONAL SUPER SKILLS CHALLENGE powered by SportWays and PRINCESS Hockey SA."
The National Super Skills Challenge powered by SportWays and PRINCESS Hockey forms an official partnership with Austin Smith. The National Super Skills Challenge (NSSC) will kick off in the April 2014 school holidays in Cape Town, Joburg and Durban. Players no matter what their current hockey ability will be challenged to try various Super Skills designed and demonstrated by Austin in short videos which will be released periodically. A National Super Skills Champion for each region will be announced and players could win PRINCESS prizes as well as spots in upcoming clinics such as the PRINCESS Dutch Clinic 2015 valued at over R1,600. Players also receive a certificate of participation. SportWays plan is to build up to a centralised winner-of-winners event in 2015 where the top junior players are really celebrated for improving their skills. There could even be a surprise visit from Austin Smith himself at this event. Not only will players be participating in the National Super Skills Challenge. The full day clinic program also includes an introduction into HOCKEY 5's the new FIH rule format that will be played at the u17 Youth Olympic Games in 2015.
"SportWays emphasis is on quality learning and fun" says Thomas Tichelman the Founder of SportWays. "Participants are guaranteed to learn the very latest techniques in the sport. We distinguish ourselves by paying maximum attention to the individual player and it is our mission that a SportWays clinic should be a special experience for each participant, regardless of his or her level of ability". Thomas recently won a silver medal at the London 2012 Olympics as a coach with the Dutch men's national team. Thomas explained that the launch of SportWays in SA along with the National Super Skills Challenge will open up great opportunities for SA coaches to go abroad to further educate themselves at SportWays top hockey camps in Europe. Each year SportWays has a "coaching lab" where only the world's best coaches get invited to develop the latest training programs focused on the latest developments in hockey. SportWays SA has already replicated this with a local lab or Indaba which Thomas presented earlier this year which trained sixteen local SportWays Technical Directors. These qualified staff will be presenting the National Super Skills Challenge.
More information on the National Super Skills Challenge can be found here:
www.princesshockey.co.za/clinics
www.austinsmith.co.za
Email: coaching@princesshockey.co.za
Home